Mobile Smoothie Cart
Let us bring the smoothie bar to you!
Smoothie Cart includes unlimited drinks, and choice of two flavors.
Enjoy a thick, cool, delicious smoothie. Perfect for the non coffee drinkers, kids, or just a cool treat! Pick up to two flavors to enjoy at your next event.
Can't decide whether you would like coffee or smoothies? Do a combination cart. We will serve coffee and smoothies!
Call today and we will be happy to determine what best meets your needs, and give you a quote.
Both carts include unlimited drinks.
Gourmet Smoothie Cart Packages
The Classic Smoothie Cart – $650
2 hours of service, 1 server.
This is the perfect package for most celebrations. We can provide service for up to 100 guests in 2 or more hours.
– Add Frappe Freeze or Italian Sodas for $70
– Additional hours $315
Short and Sweet Smoothie Bar* – $340
1 hour of service for up to 50 guests.
The option for the smaller group. Great for doctors' offices, bridal, and baby showers.
– Add Frappe Freeze or Italian Sodas for $70
We can discuss your needs for very large parties or special events.
Let us  provide you with a custom quote!
*May not be offered during peak periods such as teacher appreciation or nurses week, and holidays etc.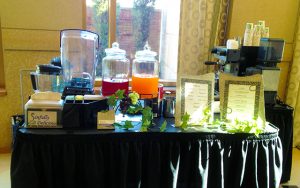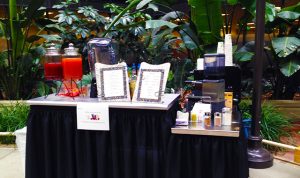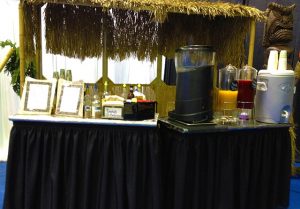 You are not limited to the options above. Please call us or send an email and we can customize a package that works for you!